In a Nutshell
Network Solutions' domain-hosting plans can suit almost any webmaster's need and there are numerous marketing services and website-building tools that can help you promote your site.
pros
Cloud hosting plans include web-building software
WordPress hosting designed to help sites load faster
Technical support is available around the clock
cons
VPS hosting not available
Dedicated hosting not available

Network Solutions Visit Site
Network Solutions at a Glance
Bandwidth: Unlimited
Free marketing offer: 15% off your hosting purchase
Uptime: 99.9% guarantee
Website builder: Included with hosting
Money-back guarantee: 30 days
Price per month: $5.69-$21.62
Ideal For
Network Solutions offers cloud hosting packages and Wordpress hosting. You can buy a domain, build a blog or Ecommerce site, and host it on their servers. Individuals and small business owners with basic needs will find plans perfectly suited for them.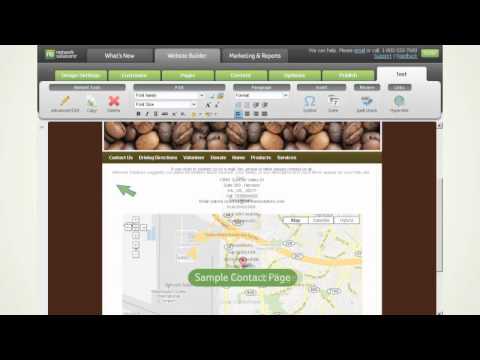 Features
Network Solutions offers several tiers of cloud hosting that can store your website's files on both virtual and physical servers, as well as WordPress hosting. Your content will continue to serve even if an individual server falls, because of the layers of servers that it's hosted on. The company offers WordPress hosting, designed to host your WordPress site and ensure it works at fast speeds.
With Network Solutions' cloud hosting, you can host a site built on any other web CMS, or on the company's own drag-and-drop website builder, which comes included with all of its plans. The company promises 99.9% uptime, and easily upgradeable plans should you find your website growing. Depending on the plan you opt for, additional features include:
CodeGuard - An automatic website backup solution
Sitelock - Malware protection
SSL Certificate - For secure credit card transactions, logins, and data transfers
Developer tools - Compatible with several programming languages and open source applications
Email Boxes - Number varies by plan
Multi-site management
Technology
Network Solutions provides hosting technology that works with the latest and most popular operating systems and software packages. This company's servers provide stability, performance, and security for your website, and they offer the ability to scale with your business. No matter what your business needs are now, or where you expect them to be in the coming years, in the technology arena, Network Solutions has you covered.
Pricing
Each of Network Solutions' hosting packages includes a free domain, unlimited data transfers, one gigabyte of email storage per account, 100 domain pointers, and traffic analytics provided by AWStats. The differences between the packages basically boil down to storage space and email options.
Here's an overview of Network Solutions' web hosting pricing:
*Prices last updated April 2019. Prices are for 1-year term.
Ease of Use
Network Solutions is highly intuitive, even for a relative newcomer to the world of websites, with cPanel to manage your hosting and a drag-and-drop website builder that requires no coding knowledge to use.
Website Builder Features
Similar to many other long-standing website hosts, including the other Web.com properties, Network Solutions gives users the ability to build their own websites by using a helpful website builder that's included with all hosting plans. The builder is a solid little tool, though it's not quite as full-featured as competing website builders offered by more modern companies.
Free Offers
Although Network Solutions doesn't offer any free trials or completely free services, the company does bundle many of its products together. For instance, when you purchase a website builder plan from Network Solutions, free hosting is included by default. Conversely, the website builder is a free add-on with any hosting package. This kind of "added bonus" structure is a common feature not only with Network Solutions, but also many of the other top hosting companies.
cPanel
The Network Solutions hosting control panel, also called the cPanel, is where you can manage various aspects of your hosting account. With this back-end system, you can access files, create email addresses, and install server software, among many other tasks. The interface of Network Solutions' hosting cPanel is relatively run of the mill, so if you've ever worked with a website host before, this system should look pretty familiar.
WordPress Hosting
Network Solutions offers 3 WordPress hosting plans, which differ by the amount of sites you wish to host.
All of the plans include on-demand cloud backup and a free domain, and the 2 top tier plans include an SSL certificate as well.
Email
When you choose to serve up your website with help from Network Solutions, email hosting is included as part of the deal. And the deal is actually pretty sweet, since the plans include a ton of email addresses and plenty of storage. Most small-business owners won't ever use anywhere near the 1,000 email addresses that come with the Essential package, let alone the unlimited email boxes in the Professional plan, but if your company ever undergoes rapid growth, you'll be ready. And with Network Solutions, hosted email accounts get a gigabyte of storage each, so all of your employees will have sufficient storage to get started.

Network Solutions Visit Site
Bottom Line
Network Solutions has been on the market far longer than most of its rivals, but its hosting offer has undergone a radical change for the better in recent years. The pricing and plans have been simplified, and whether you're looking for a home for your WordPress site, or you want a host and website builder all-in-one, Network Solutions can provide a reliable and affordable solution.
About Network Solutions
As one of the first businesses in the domain name game, Network Solutions knows a thing or two about web hosting. After nearly 20 years of helping customers, the company went public in 1997. Then, in 2011, rival Web.com acquired its long-standing competitor, and welcomed Network Solutions into its Jacksonville, Florida, headquarters.